Request an hauling quote.
California Heavy Machinery Shipping Services
Titan Worldwide is your premier partner for shipping construction, mining, agriculture and heavy machinery nationwide, including Canada and Mexico. With decades of experience in the heavy haul sector, clients rely on our knowledge and expertise for each movement – because time is money and with your equipment on time you make more of it.
Drop us a line to chat about your next shipment to or from California.
To obtain more information on regulations, Click here to see California oversize permits
California Routes
A half-dozen interstate highways crisscross the state, including:
I-5 – runs north-south through the middle part of the state, entering from Oregon and ending in Los Angeles;
I-8 – travels east/west near the state's southern border, linking San Diego with Arizona;
I-10 – runs east/west across the southern part of the state, between Los Angeles and Arizona;
I-15- goes north/south in a diagonal in the southern part of the state, from Nevada to San Diego;
1-40 – runs east/west across the middle of the state, from Bakersfield into Nevada;
1-80 – runs east/west in the northern part of the state, connecting San Francisco with Nevada.
CA Truck Network Maps
The color-coded "California Truck Network Map" for State highways is the official government source for truck route information. There are many private truck route guides, e.g., the Rand McNally Motor Carrier Atlas and various GPS systems. However, the accuracy of those private guides cannot be guaranteed, and must be verified by consulting the official "Caltrans Truck Network Map." The table at the bottom of the page shows which color routes on the map your truck may legally travel on.
District Maps (PDF): 1, 2, 3, 4, 5, 6, 7, 8, 9, 10, 11, 12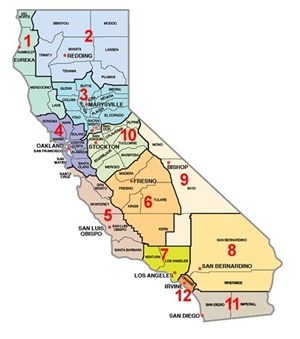 ROUTE COLORS
ROUTE TYPE
SIGNS
"GREEN" STAA TRUCKS
"BLACK" CALIFORNIA LEGAL TRUCKS

Green
Primarily
interstates
None
YES
YES

Blue
State routes
YES
YES

Black-Dashed
State routes
Usually none
NO
YES

Yellow
(KPRA Advisory Routes)
State routes
NO
YES — However, we advise you not to travel on an advisory route unless your KPRA is no more than the posted length, which is 30 feet on most routes.

Red
Varies
Example:

The restriction may or may not apply to you.
Read the restriction on the map
to determine whether it applies.
See also the Special Route Restrictions.
Titan provides solutions customized to meet your needs
Understanding your requirements and objectives is important to us. We listen and work together to create a truly successful supply chain.
Common Trailer Types Available From Titan Worldwide
TWW specializes hauling heavy construction equipment nationwide. Some of our common trailers for these services include the following: