Port-to-Port Shipping: Understanding the Process from Start to Finish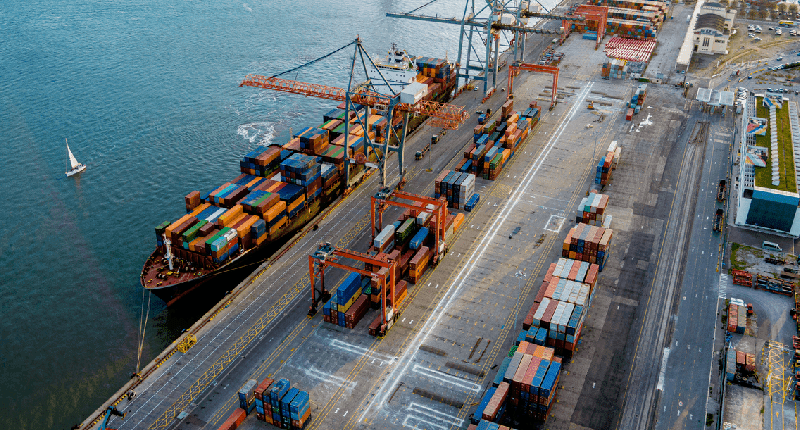 Shipping goods internationally involves many different processes including the actual transportation of your shipment over land and across the sea, moving cargo between countries, and submitting documentation for Customs clearance in both countries. It's important to understand the process involved in moving your cargo to the port of origin, then port-to-port, and then to its final destination. Learn about the transportation services involved in port-to-port shipping so that you can choose the right combination of logistics service providers.
What is Port-to-Port Shipping?
"Port-to-Port" or "PTP" is the stage of the international shipping process where goods are transported from the port of origin to the port of destination by a cargo vessel or aircraft. 
By definition, port-to-port shipping does not include services that occur before the shipment leaves the country of export (such as trucking to the port or export clearance), or after the shipment gets to the destination country (such as submitting documentation to Customs authorities or inland transportation). 
You may have heard similar terms such as "door-to-port", "port-to-door", or "door-to-door" – these correspond to other movement types.
Door-to-port: goods are moved from the consignor's "door" to the port where they will be loaded onto a cargo vessel or plane for export
Port-to-door: the shipment is taken from the port of destination to the consignee's "door" or final destination of the shipment via rail or truck
Door-to-door: the logistics service provider transports the cargo from the door of the consignor to the door of the consignee (or final destination)
To get cargo to the port of origin and then from the destination port to the final destination, shippers need to contract with a trusted freight broker or trucking company that can pick up and deliver their shipment.
How Port-to-Port Shipping Works
Importers and exporters coordinate with three main logistics service providers for port-to-port shipping: freight forwarders (who arrange transportation on behalf of a shipper), carriers (such as shipping lines or airlines), and the ports themselves.
Freight Forwarding
Most importers or exporters work with a freight forwarder who can help guide them through the international shipping process. The shipping industry is highly regulated, and successfully transporting a product between countries can quickly become very complicated—not to mention expensive—if shippers don't follow best practices. 
The cost of working with a freight forwarder will depend on the complexity of your shipment and the number of services you want them to perform on your behalf. Many freight forwarders are also Customs brokers. When you contract for both services, they will handle Customs clearance after your shipment's arrival which will help ensure your freight is cleared for final delivery.
Freight Booking
If you contract with a freight forwarder for port-to-port shipping services, they will help you find affordable shipping rates and book your shipment with a shipping line or airline depending on which type of transportation is best for your company. Air freight is usually the most expensive and fastest option, while ocean freight rates tend to be more affordable but come with longer transit times.
Shipment Tracking
Your freight forwarder will also track your shipment's movement and alert you to any developments such as scheduling delays, disruptions, or damages during transit. Inclement weather, congested ports, and labor shortages are just three factors that can drastically affect your shipment's schedule. 
Cargo Insurance 
Shipping lines offer "carrier liability" which can easily be misinterpreted as cargo insurance, but does not provide shippers with actual coverage. Most freight forwarders will help you obtain a cargo insurance policy based on the value of your shipment, covering costs if your cargo is damaged or lost during transit.
Carriage 
The quote you get from a shipping company for carriage services is typically only valid for a short period of time, as ship schedules, spot availability, and other factors that drive costs are subject to frequent change. 
Pre-carriage:

initial

transportation of goods from the door of the seller to the port where it will depart the country

Carriage:

the main leg of the shipment's journey, as it is carried between ports by an ocean vessel or airplane 

On-carriage:

the final stage of transportation that gets the shipment from the port to its final destination (such as by rail or truck)
Sometimes carriers will enforce surcharges to compensate for additional transportation expenses (such as higher fuel costs) or anticipated disruptions (such as the shipping industry's peak season rush which can strain labor forces and cause delays). 
If your company ships a consistent volume of goods through the same lanes, you may benefit from what is called a "contract rate". A contract rate, unlike a spot rate, gives shippers a consistent price for transportation and services during an agreed upon time frame, and is therefore not as volatile. 
Port Charges and Services
Expect to incur a variety of expenses at both the port of loading and the port of discharge because loading and unloading shipments requires labor and equipment. Additionally, there are surcharges due to the cost of port maintenance and security fees.
These local charges, known as terminal handling charges (THC), may or may not be included in a carrier or freight forwarder's quote for your port-to-port shipment. Make sure you know if these standard charges are included in your invoice or if you can expect additional charges.
Other types of port charges include detention and demurrage costs, which are incurred when a shipment is not picked up from the port within the designated time frame, tying up valuable equipment and storage space. 
Get Your Cargo Safely to Its Final Destination with Titan's Inland Transportation Services
Port-to-port shipping services only cover one stage of the process of getting your goods where they need to go. Make sure you plan for how your goods will be transported to the port of origin for export, and also how your goods will be picked up at the port and taken to their inland destination. 
The Incoterms® Rules are internationally recognized trade terms that outline the responsibilities of buyers and sellers. Learn more about which parts of the shipping process you are responsible for based on your shipment and its trade terms.
Inland delivery can be a complicated process especially if your shipments involve heavy machinery or equipment, refrigerated items, or other types of goods that won't fit in a standard shipping container or dry van. 
Titan Worldwide is a trusted partner for shippers who need reliable transportation services. We specialize in some of the most challenging types of cargo, such as oversized loads that require heavy haul trucking and transport. Contact us today for assistance with your supply chain!